This machine is mainly used for reserving and further opening the materials primarily opened and blended. The materials processed are fed into this machine by means of Condenser, and are delivered evenly and continuously into the comb beater for opening.
Technical Features: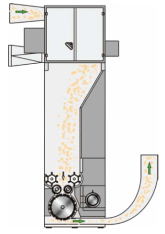 lThe frame is welded by steel, with high precision and good rigidity.
lThe cotton box is equipped with 3 pairs of photoelectric devices, which can accurately control the amount of cotton stored and has the function of interlocking with the following machine.
lFeeding is controlled by frequency converter can be adjusted online according to the signal sent by the front units.
lOver-thick layer protection devices are equipped at the double ends of lower feed roller. The feeder will be stopped to avoid blockage when cotton layers are too thick .
lThe beater is with comb roll made of aluminum alloy in large diameter and is fixed with speed controller. When the speed is lower than the set value of anti-rolling speed, the beater and the feeder will be stopped.
lMote-knives, grid bar and trash removal device are equipped to effectively eliminate pieces in cotton-type chemical fiber, so as to improve the yarn quality.
Specifications: