This machine is suitable for further opening the materials primarily opened and blended as well as removing impurities. The materials processed are fed into hopper of this machine by means of fan. The staple fibers and dust in raw materials are discharged to the dust filter system through the mesh plate in hopper. The raw materials with staple fibers and dust removed are sent to the feed roller under the action of the airflow, and finished opening and removing impurities under the joint action of the V-shaped spiked beater, the grid bars and the airflow. The materials with dust and impurities removed are delivered to the next machine by means of transport fan, and the dust and impurities separated by grid bars are discharged to the dust filter system.
Technical Features: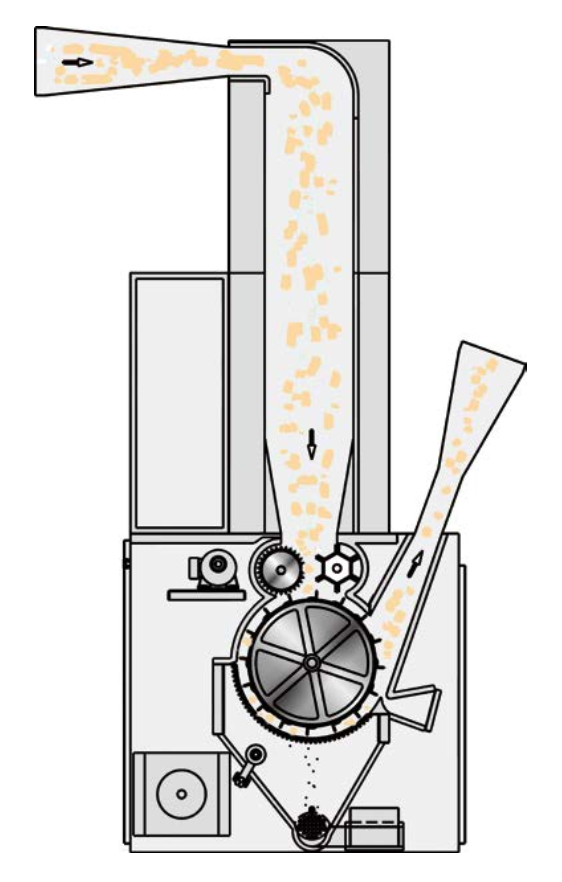 lThe cotton are fed directly by pneumatic hopper and fan. The machine is with wide working width and high output. The upper part of the hopper is equipped with pressure sensor, which can accurately control the continuous feeding of cotton.
lThe feeding roller controlled by converter can realize accurate online control according to the feeding cotton signal sent by the front units. Which can greatly improve the production quality.
lV-shaped elastic spikes are adopted for soft hitting, trying to undamaged the fiber. The beater is driven by converter with convenient technology adjustment, and the speed controller is installed at the shaft head of beater to prevent from blockage.
lClearance among grid bars can be easily adjusted manually outside machine according to waste falling situation. The new-designed suction structure can ensure the impurities can be removed smoothly, and can effectively avoid the unclean waste suction.
lThe safety devices installed at driving side, outlet and beater shaft, that can effectively guarantee man-machine security.
lIt is controlled by PLC and has advantages of convenient operation and simple control.
Specifications: