Based on JWF1566 and JWF1580 serial over-prolongation intelligent ring spinning frame, a new generation basic machine which is leading the development trends with its entire performances reaching international advanced level, integrates quick- installing technology, quick-doffing technology, dual-suctioning technology at both head stock and tail stock, and intelligent spinning expert system. Its energy consumption is reduced by 10% comparing to the current ring frame. JWF1580 is an ideal choice for medium-and high-end customers.
JWF1580 Series include:
JWF1580 conventional spinning frame
JWF1580M compact spinning frame
JWF1580E conventional ring frame with electronic system
JWF1580EJM compact ring frame with electronic drafting system
Notes: air exhausting outlets for normal suction and compact suction are arranged at both head stock and tail stock respectively.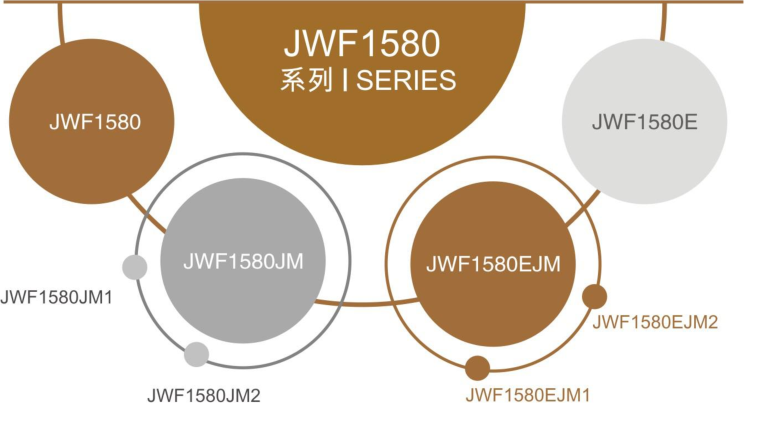 ☆Over-Prolongation
Machine length from 1248 to 1824 spindles, prolonged by unit every 36 spindles each.
☆New Type Over-prolongation Frame
One-piece intermediate frame,and high-precision spindle rail can meet the requirement of high speed spinning.
☆Quick-Installing Technology
Quick-Installing can be realizedby positioned pin and hole
☆Adjustment Free for Column of Ring Lift, It is a Domestic Innovation
☆Dual-Suctioning at Both Head stock and Tail stock
☆Synchronizing Technology for Intermediate Drive for Bottom Roller
To be suitable for different category of yarn.
☆Quick-Doffing Technology
Doffing duration 3mins
☆Electronic Drafting System is Precise and Stable
Adopt high-precision controlling technology, it has the same precise level with mechanical transmission system;Bottom rollers can be stopped first, then started in order to improve the auto-doffing performance with less end-breaks.
☆Intelligent Spinning Expert System
Yarn data can be stored, standard design for u-shape connection, failure illustrated on screen.
JWF1580E ring frame with electronic drafting system is based on JWF1580 ring frame, and inherits its technical advantages to realize separate transmitting technology between spindle and bottom roller and online adjusting technology for spinning. The entire machine reaches international advanced level in technology to simplify spinning technical adjustment, to reduce labor cost and improve productivity.
☆Spindle transmission and roller transmission are separate, spindle and roller transmission are synchronized by encoder to improve the auto-doffing performance with less end breaks.
☆Roller transmission is controlled by imported high precise servo system,which can ensure synchronization of roller transmission by pulse tracing technology.
☆Has the function of synchronization between power-off stoppage
☆Simplify the adjustment of spinning technology
☆Screen display with flattening technology, it is easy to operate
☆Has the function to produce slubby yarn without any upgrade(optional to embed software)
☆To supply end-down checking technology for individual spindle(optional).