The JWF1102 Series contains 2 models: JWF1102 and JWF1102A. The machine is used for processing various grades of cotton. The raw material is sucked into the machine by the condenser installed above this machine to go ahead spirally along splitter plate around the surface of compound beater for further opening and removing impurities. The waste separated by grid is fallen into the waste collecting box and is expelled into the filtration system.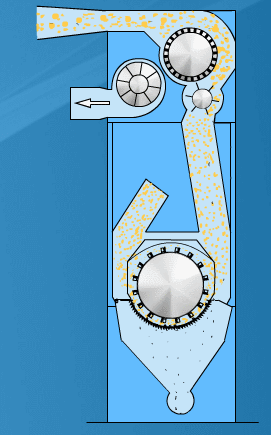 Technical Features: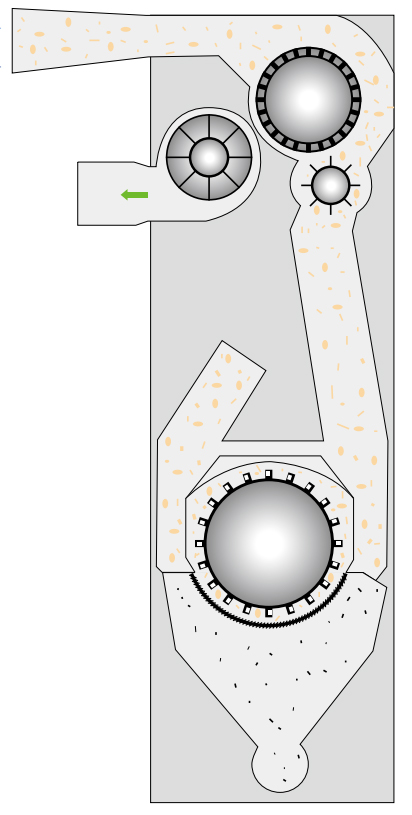 lThe machine is directly connected with the condenser for stably feeding while reducing floor space of machine.
lcorrelation-style light barriers are installed at both front and back sides of inlet hopper, which can effectively control the feeding materials online and make the machine suitable for color cotton spinning, thus expanded the process adaptation.
lThe space of splitter plate increased sequentially inlet to outlet of cotton, so as to fit for continuous expansible bulk in the course of opening materials, helpful for opening and cleaning and effectively reduces fiber damage.
lThe beater speed is adjusted by frequency control for the requirement of process.
lThe Grid device is composed by grid bars and adjustable configuration. It is adjusted manually outside machine with simple operation. The setting angle of grid bars, the space between grid bar and beater, and the space among grid bars can be adjusted at wide range.
lWaste collecting box is connected to filtration system with waste suction pipe, so the waste can be directly absorbed into filtration system via this pipe. In respect of trash removal system traditionally equipped with cleaning roller, the new mechanism can effectively reduce energy consumption and increase cleaning efficiency.
lThe safety devices installed at driving side, outlet and beater shaft can guarantee security of man and machine itself.
lThis machine adopts PLC control and pleasure operation panel for easy and quick setting.
Specifications: