The JWF0001 and JWF1011A multifunctional separator adopt the same structure design, suitable for pure cotton, chemical fiber and cotton blended in blowing-carding line. The Machines are composed of spark detection unit, metal detection unit, metal & spark removal unit, airflow balance unit, heavy part & impurity separation unit, dust & impurity separation unit, bridge magnet unit and so on.
Technical Features: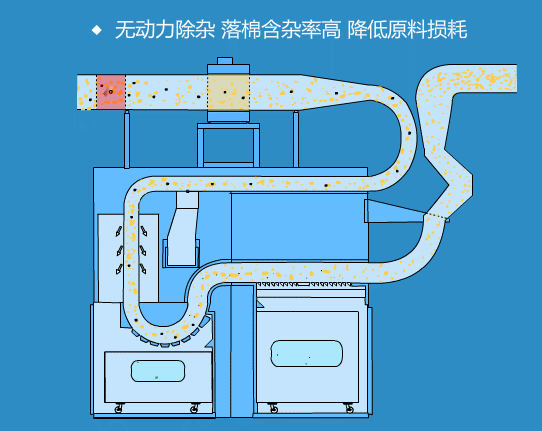 lJWF0001/1101A gathered functions of spark detection-separation and metal detection-separation, on the basis of guaranteeing the separation function, the machine effectively solved the installation requirements of the traditional detection device conveying pipeline of not less than 4 meters.
lThe machine adopt airflow balance separation structure in vertical design, and the separation airflow can be adjusted. The structure solved the system fault caused by the mismatch of airflow in front and rear units of blowing-carding line, and effectively improved the working stability in blowing-carding system;
lThe machine adopt the structural of separating two groups of impurity, thus heavy parts, impurities and fine dust can be separated more effectively. The heavy part and impurity separation area adopts the U-type separation structure, mainly removing the larger heavy parts and impurities in raw materials, such as stones, sawdust, cottonseed shell; the dust and impurity separation area adopts jumping motion theory in the process of pneumatic conveying materials through impact and friction with triangle grid bars to remove fine impurities in raw materials, such as fiber or cotton leaf and seed coat fragments;
lBridge magnetic devices are equipped at the outlet, further enhancing the safety of blowing-carding system.
Specifications: