This FA103B Series is designed for opening various grades of cotton, chemical fiber and mixed materials. This machine adopts two feed modes i.e. Pipeline connecting feed mode or Condenser feed mode. It is regarded as pre-opener in blowing-carding line, and is installed between opener and mixer.
Technical Features: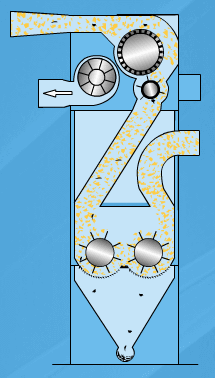 lBeater is controlled by frequency inverter with easy technology adjustment.
lSpeed controller installed at beater shaft end, it has function of preventing blockage.
lClearance among grid bars can be easily adjusted manually outside machine according to falling waste situation.
lContinuous auto-suction system to make sure the equipment is stable.
lThe PLC control has advantages of convenient operation and simple control.
lThe machine can be used alone or connect with condenser. The splitter slot has obtained national patent. Patent No:ZL201420667341.x.
Specifications: